In th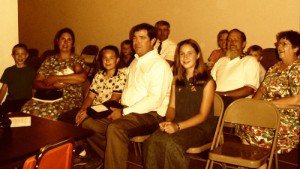 e Summer of 2003 in Scottville, MI a small group of believers was meeting every Thursday night to pray for an independent Baptist Church to be planted in the Ludington area.
At the end of that summer the Lord answered their prayers. With the help of Trinity Baptist Church in Flushing, MI and Baptist Church Planting Ministries, Gospel Light Baptist Church was planted in October of 2003.
Trinity Baptist helped Gospel Light purchase a building to meet in. The building needed much work and the renovations were done on an extremely tight schedule. As the starting date of the church approached, many volunteers turned out to help finish the work on the building.
The grand opening services of the church included a Gospel concert by the Anchormen Quartet and a week of meetings with special guest speaker Dr. Earl Jessup. The community was invited to come to these meetings to find out more about Gospel Light Baptist Church. Many other churches from around Michigan came to help us in this endeavor. The meetings were a success with many community members in attendance each evening. We held our first Sunday services on October 17th.
It has been exciting to see the Lord working through this ministry. We are eager to see what God has planned for the future of Gospel Light Baptist Church!